West Virginia Code §22C-4-10 mandates that
each household or business must
do one of the following:
Subscribe to, pay for, and use garbage service, or
Provide proof that they have properly disposed of their garbage at an approved solid waste facility EVERY THIRTY (30) DAYS.**
** If you choose option 2 above, please save your receipts from the solid waste facility. You may need the receipts to use as proof of proper disposal.
Haulers certified by the WV Public Service Commission to operate in Brooke County:
Allied Waste
Solid Waste Services, Inc.
Waste Management of WV Inc.
(304) 277-2088
(304) 748-0085
(877) 387-9542
Municipalities that have internal solid waste departments:
City of Follansbee
City of Weirton
(304) 537-1330
(304) 797-8540
Please call your hauler for information on proper participation with regard to placement of trash cans and dumpsters.
If your service includes the use of a dumpster, nothing left outside the dumpster will be taken by the hauler. All items must be inside the dumpster. It is against the law to place trash in a dumpster unless the dumpster is on your account. Unauthorized use of a garbage dumpster is a violation of W.Va. Code §61-3-53 and is punishable by fines. Please call the WV DNR at (304) 825-6787 to report unauthorized use of a dumpster.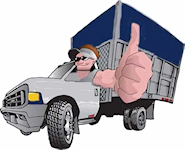 All open vehicles transporting solid waste MUST be covered with a tarp, or secured in another manner, from the point of origin to point of destination or delivery at the Transfer Station. Transporting unsecured, uncovered solid waste in an open vehicle without a tarp is a violation of W. Va. Code §17C-17-6(a&b) and is punishable by fines.
**** To file a complaint about your solid waste hauler, please call the WV Public Service Commission at 1-800-344-5113 or (304) 340-0496.