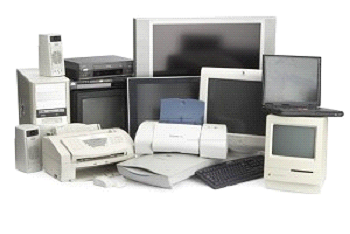 Effective January 1, 2011, computers, monitors, and TVs
are banned from disposal in West Virginia Landfills.
In an effort to ensure the proper handling of end-of-life electronics in an environmental safe and acceptable manner, the West Virginia State Legislature passed Senate Bill 398 prohibiting the disposal of Covered Electronic Devices (CEDs). As of January 1, 2011, TELEVISIONS, COMPUTER TOWERS, LAPTOPS and MONITORS are banned from being disposed of in WV State landfills.
Brooke County residents are able to recycle CEDs at the Brooke County Recycling Center (BCRC) in Beech Bottom, WV, (at the old Windsor Coal Property), M-F from 8:00 a.m. to 12:00 p.m. Brooke County Recycling Center now has surveillance cameras. Dropping off after hours is not permitted and violators can and will be prosecuted.
Accepting:
answering machines, computer copiers, cell phones, cd players, camcorders, cables/cords, calculators, cd burners, dvd players, digital cameras, docking stations, electric typewriters, electric wire fax machines, game systems, hard drives, keyboard/mouse/peripherals, laptops, monitors, medical electronics, microwaves, modems, network hardware, printers (and ink cartridges), projectors, PDAs, pagers, power supplies, projection equipment, plotters, peripherals, phone systems, radios, remote control, servers, speakers, scanners, stereos, software security equipment, tape players, televisions, telephones, two-radios, tape drives, test equipment, telecommunications equipment, typewriters, ups systems, VCR's, zip drivers, small household appliances will also be accepted.
All TV's Console will have a $5.00 charge.
Not Accepting:
White goods such as dryers, washers, stoves, dishwashers, hot water tanks, refrigerators, freezers, air conditioners. Any type of light bulbs or ballast will not be accepted. No smoke detectors, household or commercial batteries.
If you're not sure on an item please call, 304-527-3947.