---
Effective January 1, 2011, computers, monitors, and TVs are banned from disposal in West Virginia Landfills.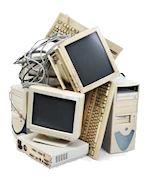 Brooke County residents are able to recycle computers, monitors, and TVs at the Brooke County Recycling Center in Beech Bottom, WV, (at the old Windsor Coal Property) M-F from 8:00 a.m. to 12:00 p.m.
Please read more...
Brooke County Recycles!
The Brooke County Solid Waste Authority sponsors drop off recycling. Recycling works when the materials are separated and clean. Please do not mix trash in with any of your recyclable materials.
CURRENT DROP-OFF LOCATIONS:
Bethany:
College and Richardson Street
Follansbee:
Follansbee Middle School
Hooverson Heights School
Wellsburg:
12th & Yankee Street (behind Rite Aid), Brooke High School, Wellsburg Middle School
MATERIALS ACCEPTED: At All Drop-off Locations:
ALUMINUM & STEEL (TIN) CANS:
*** Please briefly rinse cans --- its OK to leave on labels ***
Aluminum Cans:
soda, beer, juice,
sports drinks, pet foods,
and some tuna cans

Steel Cans:
soup, vegetable.
pet food, and some tuna cans

WE DO NOT ACCEPT:
aluminum foil & pans
large scrap metals
A/C units, appliances
wire hangers
CARDBOARD & PAPER:
*** Please flatten all boxes to fit in the recycling bins ***
Cardboard can include:
corrugated boxes
cereal & cracker boxes
paper grocery bags
pizza boxes
Paper can include:
newspaper
magazines & catalogs
phone books
junk mail, office paper, envelopes
WE DO

NOT

ACCEPT:
milk cartons
ice cream cartons
waxed cardboard
some frozen food boxes
PLASTICS:
There should be a number one

or number two

inside of a recycling triangle
symbol on the bottom of the container.
No other numbers can be accepted.
*** Please remove all caps--- it is OK to leave on the labels ***
Typical #1 plastics include:
clear/green beverage bottles
water, soda, sports drink bottles
2-liter drink bottles
some cleaning product bottles
Typical #2 plastics include:
milk jugs
laundry detergent bottles
some shampoo bottles
some cleaning product bottles
WE DO NOT ACCEPT:
#3 through #7 plastics
plastic bags of ANY type
styrofoam of ANY type
plastic plates & utensils, bubble wrap